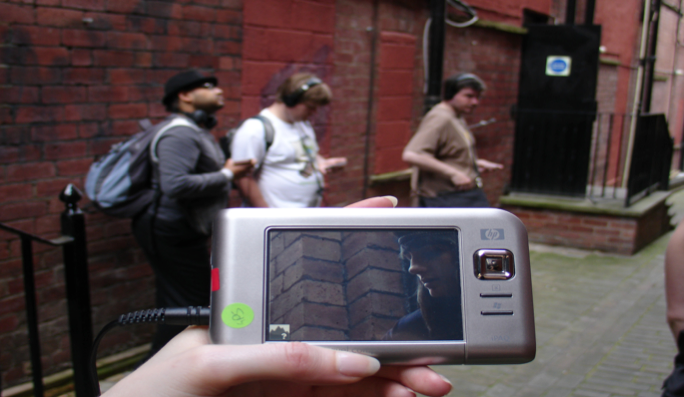 'Our City, Our Music' investigates the use of binaural sound recording and geo-located video to map urban spaces. It is a collaborative project led by myself, Ben Dalton & Ben Halsall. 'Our City, Our Music' is accessible via mobile devices on the streets of Leeds. It hosts 15 tracks across the city. The content was shot by and features a team of 50 Leeds based emerging artists, filmmakers and musicians.
The project actively engages communities such as the vibrant music and filmmaking scenes in Leeds. We worked closely with organisations such as Leeds City Council, Yorkshire Forward and Screen Yorkshire to realise the project.
The participants, including students and recent graduates, were provided with professional development opportunities from industry experts and technical guidance on shooting for small screen devices with handheld technologies. This mentoring programme provided one-to-one technical support and hosted a series of workshops delivered by professionals from across the creative industries. The goal of the training was to provide new skills and hands-on industry experience to the up and coming filmmakers and musicians involved in the collaboration. The result is that it supported students and recent graduates by offering video production workshops, face-to-face introductions to industry experts and assistance with solving their technical objectives for each music video. They gained skills, built up their portfolios, extended their professional network and were promoted through the project.
2009 Finalist in Northern Design Competition in two categories/
Product Design & Digital Media http://www.OurCityOurMusic.com