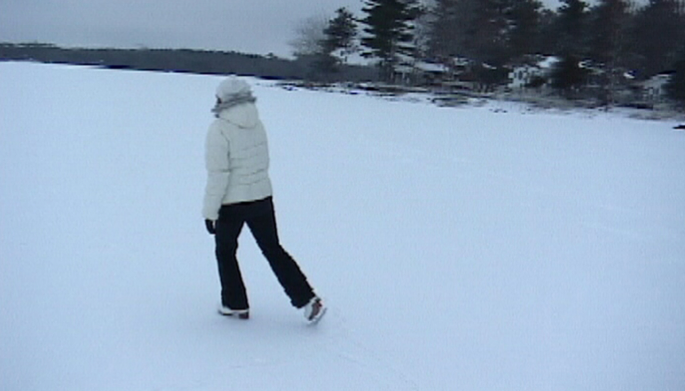 This film was shot in 2004 in Canada, on the river that separates Quebec and Ontario. It is a natural border and can be a fragile environment for political debate. Quebec is famous for its francophone culture and for preserving the French language. Unfortunately, for some people the provincial campaign can be stifling and can erase social history. This is done through the re-charting of municipal lines, the renaming of communities, streets, roads and cities. At times language police have monitored advertising for the appropriate use of French as the predominant language, and stories of informants quietly alerting the police to suspect businesses are not unheard of within the Ottawa Valley. This film was meant to be a subversive message, a question or a contemplative thought on the slow growth of the Quebecois culture as the language flourishes while some communities are forcefully stripped of their right to maintain their own identity.
I used American NTSC and edited in the UK through the European PAL system. The visual jarring is the result of pixel information lost in the translation between the two systems, and synonymous with the loss of information that occurs in communicating across cultures. In Britain this water expanse is often referred to as a lake, it's breadth seemingly too grand to be a river. The act of skating on a natural water body is perceived as romantic, dangerous and a gamble on thin ice.
As of yet, the film has not been shown in Canada.
2008
Ours: Democracy in the Age of Branding, Vera List Center for Art & Politics, New York
REBRANDING ACTS TINA B. – Prague Contemporary Art Festival, Czech Republic
2005 Intermediate 3, Site Gallery, Sheffield, UK
2004 Sculpt, The Winchester Gallery, Southampton University, UK