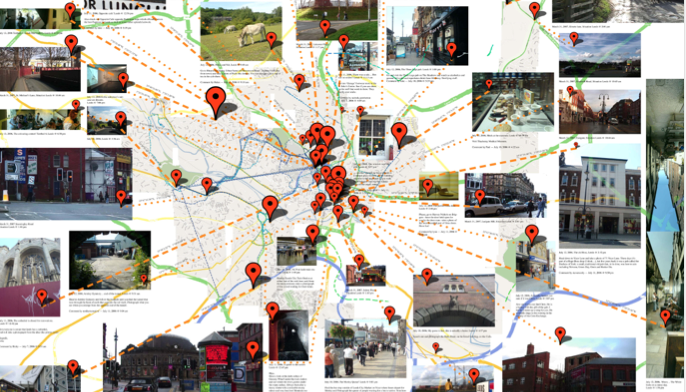 'The DoGoSee Project', is a collaboration between Megan Smith & Benjamin Halsall.
This project explores new methods of creatively mapping out space using mobile phones and their cameras, as well as GPS technologies. The outcome digital prints, blogs, audio recordings and photographs work to produce an audio/visual archive, or a new form of mapping narrative onto place. Events have taken place in Berlin, Leeds and London.
2010 Bring the Happy, Invisible Flock, The Light, Leeds, 15/10 – 22/11.
2008 Departure Lounge, East Street Arts, May 8-10
Online work documenting locations in Leeds and Berlin. Narrative audio files were available to download to mobile phones during the festival at a listening station.
2007 Leeds Artists Show, Leeds City Art Gallery, UK
Situation Leeds, Leeds Met Gallery, UK – DoGoSee was promoted by the festival and commissioned by the gallery to develop an exhibition and to encourage visitors to be involved in photographically mapping Leeds with mobile phones.
2006 Live Project based at Hope Gallery, London, UK Live Project based throughout the city of Berlin.